Based on the idea of the Ha Nhi traditional House, Sapa Clay House is an innovative example of combination of traditional housing and modern architecture that creates an environmentally friendly structure. With the desire of being the best destination of mountain retreat of Sapa. Sapa Clay House offers long-term or short term accommodations ideal for retreat, dinning and relaxing. In the Tokin Spa visitors may combine Meditation, Yoga, Tai Chi, allowing travelers to unwind, relax and be closer to Mother Earth.
We are a family business whom worked long time for hotel industry, warmly welcome to our house and hope to everyone will have the best memory about this Mountain area that we love and would like to share with you. You might meet Manh – A Hotel and Spa Manager who worked for Six Senses Resort, Chung – Our Chef, Linh – Our Guest Assistant, Dung – Our Restaurant Assistant and other local people.
At your service
Welcome House
It is big house, made by Local Clay including a Lounge & Bar, a Restaurant, a Kitchen and 4 seasonal houses. The Welcome House offers incredible view to Hoang Lien Son Mountain and Muong Hoa Valley view then guests can enjoy as much as possible with an open kitchen with organic fruit and vegetable, a nice pond, a cozy fire place and sun terrace.
Our friendly hosts will be available 24hours/7days upon your request and ready to assist you at any time.
Our Manager on duty is available 24hours/7days, is more than happy to assist you at any time you need.
Check-in time: 1:00PM And check-out: 11:00AM.
Private Bamboo Hut
Designed by the local Bamboo and Pine Wood, our 4 Private Huts offer the best view ever to Hoang Lien Son Mountain and the most beautiful of paddy rice field of Y Linh Ho Village. The room is 40m2 including a large living room with air-conditioning, private balcony, bath room, special outdoor shower and a small garden. Guest will enjoy a private wooden bath tub in each Bamboo Hut with nice garden.
 Seasonal House
Each room is designed as the color of 4 seasons then guest will get a different feeling in each different stays. As a desire of Ha Nhi Clay House, this room is made from local clay but more comfortable for guests who like to stay closer to nature. The room is 30m2 with air-conditioning, equipped with the most comfortable bed, relaxing chair, private bath room, wooden bath tub and private balcony with a great view ever to Hoang Lien Son Mountain and the most beautiful of paddy rice field of Y Linh Ho Village.
Booking & Policy
If direct booking for 2 nights stay up from travelers will get a complimentary a family dinner.
Our minimum stay is 1 night stay and unlimited for long stay guests.
Cancellation before 30 days prior arrival date is free of charge, after 30 days is 100% charge.
Housekeeping Services
We do offer daily housekeeping and turn-down service for free of charge; please choose your own favorite kinds of pure essential oil upon check-in then our room maid will put it in your room after making rooms at night time.
Laundry is available upon request with charge, just let us know if you would like to have express laundry service that helps our housekeepers do it well.
The Organic Restaurant
Operating hours
Breakfast: 7:30am to 9:30am
Lunch: 11:00am to 4:00pm
Dinner: 6:00pm to 9:30pm
Our restaurant is served the Authentic Vietnamese Cuisine using organic local products. Each dish is filled with our warm heart and creations.
The Tonkin Spa
Operating hours: 10:00am to 9:00pm
Located on a center of the area, it is very comfortable for guests to get a treatment such as: Signature Massage, Facial Care, Herbal Bath, Steam, Jacuzzi and Hammam Treatment.
Yoga and Meditation center is added as the most relaxing area to recover. We also offer free of charge Yoga Mat upon requests.
---
The Infinity Pool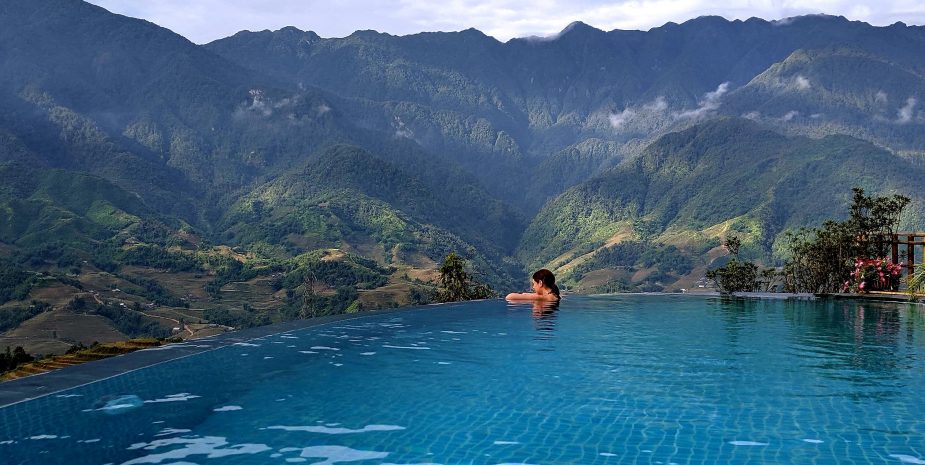 Operating Hours: 9:00am – 8:00pm.
Our new Infinity Pool is the most beautiful setting with great view ever for our guests to relax, unwind and calm down. It is heated pool with 28 – 31degree C but in a coldest day around 0-9degree C the pool is not running well as our expectation because it is too cold for out-door pool.
All guests should have their own Swimming Suits to access to our pool and offered a pool towel per day.
Children are not allowed to use the pool without supervision of parents.
---
Sunset Cocktail
Using a local flavor to make a different taste of cocktail for complimentary at 5:00pm daily, it is great time to share our local experience with the guests who prefer to understand more local cultures.
Cooking Class
Cooking Class will be held every morning, and guests can join us in a visit to the Sapa Market to buy fresh vegetables, fruits, and foods, followed by cooking class at noon. Upon finishing we visit the local school where guests can give foods to children. We call this social work "Feeding Sapa", is much more meaningful than other charity initiatives. Sapa Clay House is very happy to allow guests to do this social work that provides a better life for poor children.
Private BBQ
Private BBQ dinner with organic vegetable from our Garden & local food & farm is available with candle, flower set-up upon request and book in advance. It is nice for anniversary, honeymooners or loves propose.
Room Service
We have room service available upon request and the cost will be added 20% as our price on the menu.
Family Dinner
Every direct booking will get an invitation for our family dinner. It is a great time to share experience, culture and know more about our hosts.
Retreat Week/Month
Our Spa Manager will be more than happy to tailor you a whole week/month for retreat package including massage, detoxify plan, exercise, trekking, Yoga/Taichi/Meditation and herbal bath. Our Chef will take care of your daily meal upon request or Chef's Menu by organic products.
Yoga Mat
We have a nice place for Yoga or meditation and more than happy to give you Yoga mat for complimentary upon request. Please contact our host whenever you need it.
Concierge Service & Local Information
Local information and tour is informed upon request by our guest service assistant, just do question if you like our recommendation during your stay. Our hosts will be more than happy to give you many optional plans to discover Sapa depends on your favorite.
We also do co-operate with local guides to cut-off middle man by travel agent that helps our guests to save more money and get closed to ethnic people. Depends on your health status or weather condition our guide will recommend the best trek ever to discover both culture and scenery with soft/medium or hard trek with 35usd/42usd or 48usd per person including guide, lunch, visiting ticket, transfer.
Our guest service assistant will give you more details, more options upon check-in.
Useful information
How to get to Sapa Clay House?
By our Limousine only 8 comfortable seats
Departures at 7:10am from your hotel in Hanoi Old Quarter you will get the most comfortable transfer ever to Sapa Town with only 5hours 30minutes. If you wish to transfer back to Hanoi you will get our Limousine at 2:50pm.
By a Luxury Bus with 29 seats
Departures at 7:00am from your hotel in Hanoi Old Quarter you will get our transfer to Sapa Town with 6hours bus. If you wish to transfer back to Hanoi you will get our bus at 3:30pm.
By a Night Train with new cabin
Departures at 9:00pm from Hanoi Train Station you will get our train transfer to Lao Cai city with 8hours and get other transfer to Sapa Town by taxi, public bus or our private car.
From Sapa Town to Sapa Clay House is only 3Km down to Lao Chai – Y Linh Ho Village you can easy get a taxi 24hours a day and you are requested to buy a ticket to get into the touristic villages. It is under control by the government to help local people improving their life. You should keep the ticket with you wherever you go to visit the Villages along to Muong Hoa Valley you don't need to buy any more tickets. Please note that this expense is covered by yourself and you just buy only 1 time for your whole stay with us.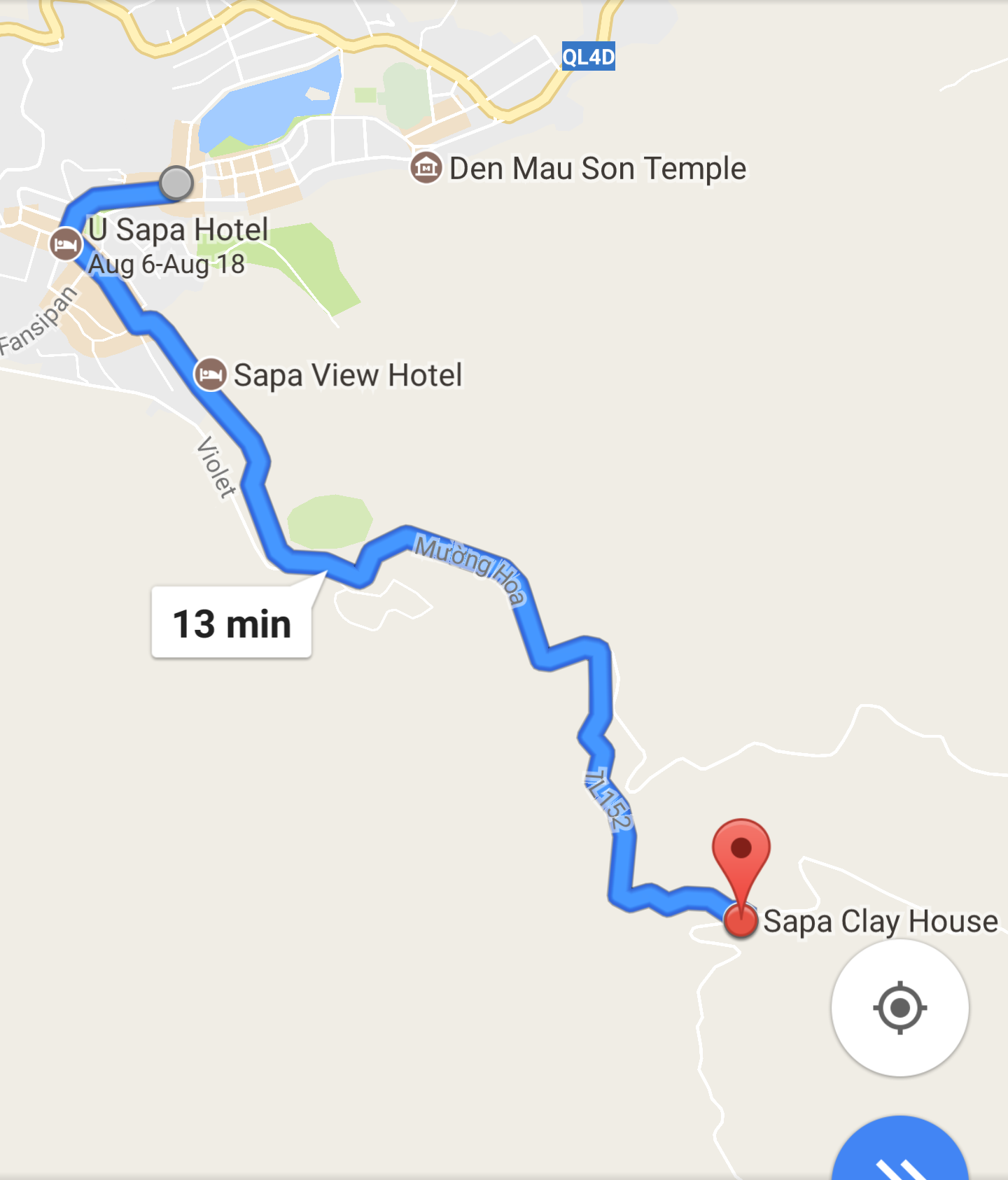 How to interact to the Local People?
Whenever you enter into the Village in Sapa Mountain area you will meet the H'Mong, and The Red Dzao Minority who always follow you to try to sell something. Sometime these ladies make noise and bother you of course some travelers are not comfortable with these issues. You should tell them clearly you won't buy anything if you don't like to buy something or just say "No" with them when they try to sell something for you. Don't say "Later or May be", if you say like that they will keep going on to follow you.
We recommend you to buy local products on the shop to improve the best behavior for local people than you buy things for Street Vendors.
Ask for permit whenever you take pictures or come in to their house to visit before you do.
Don't give children candy or money when they follow you on the street. They will like it and don't want to go to school anymore. Just helps the children in the school if you like to do charity that attracted more and more children go to school for better life.
 Our Private Notes
We are much closed to the rice paddy and our surrounding is very nature that why it might have some insects after harvested season. We just noted that for travelers who are scared about insect, mice, ect… should know about this and read carefully before booking because any cancellations less than 30 days notices will not get any refunds.
As a family business we might not use some international hotel industry standards like  big hotels, we treat guests like our family then don't be surprise when our hosts will sit with you during conservation or use a former words. We will try to make you feel you are at your home and you are our member of family not the guests.
We would love to welcome guests with smiles and open-mind and of course our hosts will support as much as we can but we don't like to welcome guests who always like to complain to get a refund and say not welcome with these travelers.
We always try to do our best to make your stay more memorable and comfortable as much as possible. Life is so short then just make it easy enjoy, and relax, everything else we will care for you.
Cheers.