Meet our Local Guide and help them to get more skills. They are now just waiting for being your guide to cut off middle man by travel agent then you can save more money, our guide also get more income than being a guide for travel agent.
More easy, more flexible and free cancelation due to a bad weather condition, our guide will recommend the best trek ever depends on your health status as below:
Soft Trek (About 2-3 hours)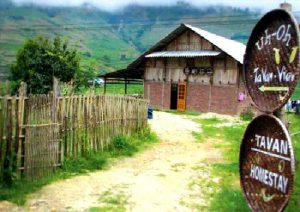 Getting a car to Lao Chai Village then following the best Valley of Muong Hoa you can see a little Gem of paddy rice field. You also can see the daily life of Black Mong, handy-craft shop, embroidery, indigo process and join batik class if you love to learn.
Having lunch at Ta Van Village where you also can see Dzay Minorities with famous of hospitality homestay area. Get a car back to Clay House.
Medium Trek (About 4 – 5 hours)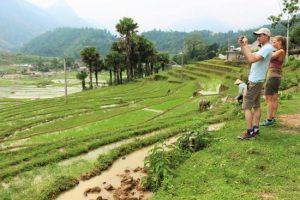 Along Muong Hoa Valley from Y Linh Ho Village where the best view to Hoang Lien Son Mountain and paddy rice field you will be closed to the environment  and get more experience about local life of Black Mong.
Cross through Lao Chai Village where you can see how to do batik, indigo and embroidery.
Having lunch at Ta Van Village where you also can see Dzay Minorities with famous of hospitality homestay area. Get a bike or car back to Clay House.
Hard Trek (About 5 – 6 hours)
Option 1: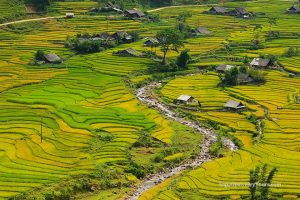 Do the same trek from Medium option but just follow the buffalo trail to get into Ta Van Village and having Lunch there. After lunch you will visit Giang Ta Chai where you might experience in Bamboo Forest trek and see a small waterfall and rattan bridge.
Get a bike or car back to Clay House.
Option 2: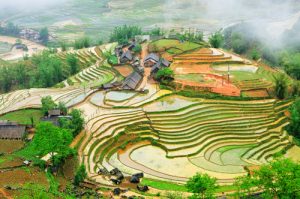 Start trekking from Clay House to the highest of the Hill called Hang Da and Hau Thao where you can see the best view from the top to whole Muong Hoa Valley. You also enjoy the scenery and culture of Black Mong.
Having Lunch then heading to Hau Chu Ngai and Su Pan where you might see the Red Dao minority.
Get a bike or car back to Clay House.
---
Local Market Tour and Cooking Class with our Chef.
Join us with a local market everyday on 10:00am to Sapa market where you can see a real Vietnamese or Ethnic life. You might visit Herbal corner, Fruit and vegetable, Meat or Fish area. We do recommend you to visit local handy-craft corner of Black Mong, Red Dao and Dzay.
Back to Clay House to start learning how to cook Vietnamese dishes with Chef then having Lunch.
Following this activity is a social work, we called "Feeding Sapa", it is charity works direct to the poorest children whom have not enough Calcium, they are shorter than normal. If you like this job, please tell the Chef in advance then Chef can arrange a menu or buying more milk for them. Please note that is charity works then you can donate as your budget.
---
Join The

Batik

Class in Lao Chai Village – nearby Clay House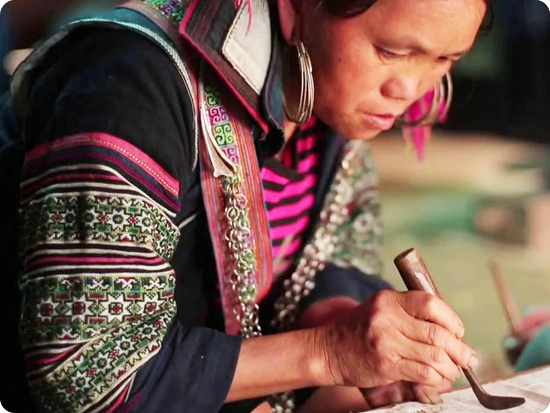 The beautiful art of batik – using wax and dye to create patterns on cloth – has been around for centuries. More than 2,400 years ago, the Egyptians used a form of batik to wrap their mummies, and the practice soon spread to China, India, Japan and Indonesia. Batik is also practiced as far away as Africa, although various starches may be substituted for beeswax.
In Vietnam, the H'mong, one of the country's 54 ethnic groups, practice this age-old art and we set out to the Muong Hoa Valley, just outside of Sapa, to learn from a batik master.
Because Sapa's climate and soil only support one rice crop per year, the women have months where looking after the home and children are their main duties while the men are off tending to fields, animals or doing manual labor. Walking through the H'mong villages, you see women and girls sitting everywhere – sewing, embroidering and hand-dyeing spectacularly colorful outfits. It's refreshing to note that these intricate garments aren't for tourists – the H'mong women actually wear them quite often – when going to market, going into town, and sometimes just to visit neighbors.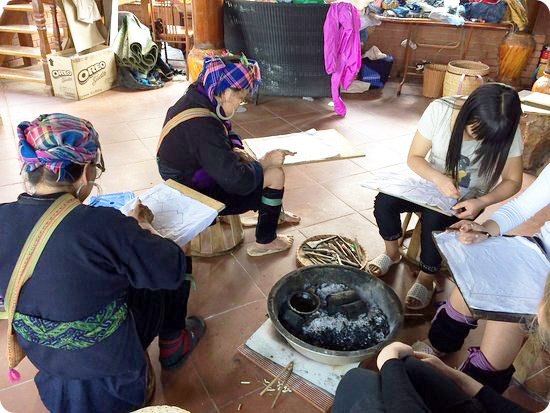 Our batik master is named Dee and she welcomes us to her small but tidy home. She speaks very little English, but a ready and full-bodied smile transcends all language barriers and we're soon communicating through bits of English, Vietnamese and lots of gestures.
Batik starts out with some kind of cloth. The Vietnamese H'mong prefer hemp, and a complicated-looking handloom testifies to their weaving skills.
The hemp fibers are straw-like and it's hard to believe that they can be spun into such strong, durable cloth with a linen-like feel.
The art of batik creates patterns using a wax-resist method. Dee puts on a pot of beeswax to melt over hot coals. The beeswax is colored with indigo paste to make it easier to see against the off-white hemp fabric.
A basket of tools lies nearby – filled with pen-like instruments made of bamboo and tipped with metal. There are metal stamps as well in all types of shapes and patterns taken from nature and from everyday motifs, a traditional way of documenting everyday H'mong life.
---
Market Tour
Lung Khau Nhin Market (Thursday – 110Km from Sapa Town)

Lung Khau Nhin is a small market very close to the border with China, close to Muong Khuong town. The Black Dao, Giay, Tay, Flower Hmong (Red Hmong) minority peoples all attend this market.

Lung Khau Nhin market is held every Thursday starting around 7.30am and closing in the early afternoon. The market is set in beautiful scenery and is very remote. It is a very 'authentic' market with few tourists visiting. The market mainly sells vegetables, seeds and livestock for the minority peoples.

Cao Son Market (Wednesday – 125Km from Sapa Town)

Cao Son market is located in Cao Son commune, Muong Khuong market, Lao Cai province. It is 80 km far away from Sapa town & 125 km from Sapa town.

Travelers come here to have a chance to exchange, talk & learn about the ethnic community of 4 big villages in Cao Son commune, Muong Khuong district.Coming to Cao Son by boat trip from Bao Son – Cao Son is very unique of way to explore the unreached area of imposing of views from both sides of Chay River.

Coming on Wednesday of Cao Son Market, traveler will have a chance to enjoy, learn the culture, traditions, and customs of ethnic people & taking boat trip along Chay river.

Coc Ly Market ( Tuesday – 95Km from Sapa Town)

Coc Ly a is a medium sized minority peoples market where every Tuesday the tribes from the surrounding villages come to buy and sell goods and meet friends. You will find Flower Hmong (Red Hmong), Black Dao, Nung, Giay and Tay peoples in attendance and the goods on offer range from local fruit and vegetables to livestock, handicrafts and clothes.

The market starts around 7am and closes in the early afternoon.

.

Can Cau Market (Saturday – 125Km from Sapa Town)

Can Cau is a busy market which is held every Saturday. Located just below the Chinese border, it is a colourful, vibrant market where you will encounter minority peoples such as the Flower Hmong (Red Hmong), Nung, Phu La and even Chinese people from across the border.  All kinds of goods are traded here, from fabrics to various types of livestock to the powerful local corn wine.

As you would expect, the market starts early (around 7.30am) and closes in the early afternoon so you will want to make an early start to get the most out of the experience.

Bac Ha Market (Sunday – 110Km from Sapa Town)

Recommended by Lonely Planet, Bac Ha Market is held every Sunday and is the biggest minority peoples market in Northwest Vietnam. Alive with the bright colours and extravagant costumes of the local people, here you will meet Flower Hmong (Red Hmong), Black Dao, Tay, Nung, La Chi, Phu La and other minority groups who come from far and wide to buy and sell a wide variety of goods and livestock, to exchange news and to renew friendships. In the past the market was a centre for trading horses but now that motorbikes have replaced them it is more common to see buffalo, cows, goats, fish and other livestock being traded. The market opens at around 7.30am and closes mid-afternoon, so an early start is advisable.

Tam Duong Market (Sunday – 90Km from Sapa Town)

Binh Lu and Tam Duong market is located on the other side of Sapa, passing the 1900 meter Tram Ton pass, Viet Nam's highest mountain pass and considered the most beautiful stretch of road in the country.

The town is bustling with activity as the local hill tribes gather for their weekly market day, amazing tribal markets in Binh Lu where thousand of Thai Kadai language groups such as Tai Lu, Tai Laos, White Tai, and H'mong – Yao group (black Yao, Yao Lantien..) Giay, Khomu.. comes to buy and sell their own produces.

Every Sunday from 8 am to 1 pm.